Sleeping in Seattle-Kraken Sleepwalk Through Game 2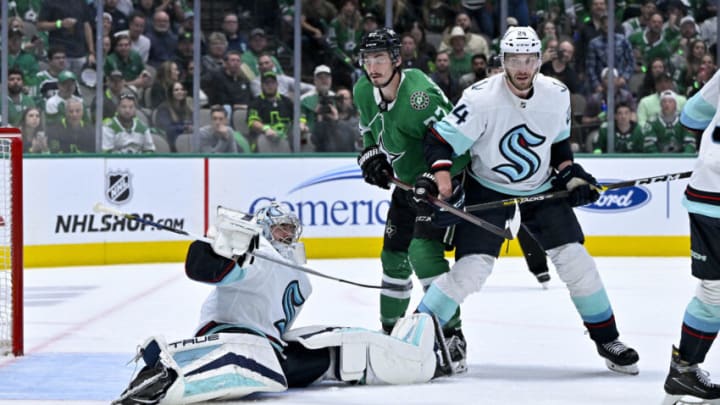 May 4, 2023; Dallas, Texas, USA; Seattle Kraken goaltender Philipp Grubauer (31) and defenseman Jamie Oleksiak (24) and Dallas Stars left wing Mason Marchment (27) look for the puck in the Seattle zone during the second period in game two of the second round of the 2023 Stanley Cup Playoffs at Scotiabank Arena. Mandatory Credit: Jerome Miron-USA TODAY Sports /
The Seattle Kraken dropped Game 2 of the second round Western Conference matchup, 4-2 last night. The score looks worse than the game actually was as Dallas found a way to slow down the Kraken's speed and intensity. Dallas controlled the time of possession and rocked the Kraken to sleep through the first two periods. Seattle had 12 shots half way through the game, and trailed 3-1. Strange game for Seattle and a huge letdown from what we have seen this team being capable of.
Oettinger looked like an all-star through 2 periods (he saved what few shots we put on net). The Kraken played their game initially but Dallas found a way to keep Seattle out of in front of Oettinger and kept them from creating scoring chances. The Dallas backcheck and defense dominated, and ruined the Kraken's game plan.
Handsome Tyler Seguin scored a goal and was a huge contributor in stopping the Kraken offense. Joe Pavelski once again found the back of the net. He is the best player in the NHL at scoring big goals, and dirty goals. Period. I will give Seguin credit for throwing the Kraken's depth props; he has said multiple times that "you can't tell the difference between the Kraken's first line or fourth line". Dallas had an answer all night. It did not matter what we threw at them.
I said yesterday how important time of possession and faceoffs would be to this game. Dallas won 69% of the faceoffs. No wonder the Stars controlled the clock and time of possession in this one. The faceoffs were the biggest difference maker in this game. Period. Seattle has to fix this, or we will not win this series.
Overall, Game 2 was a snoozer. Pretty boring first period, a few big plays in the second, and then a total collapse by the Kraken towards the end. Oettinger was huge in the third period, but that is what top end goalies do when it matters. Dallas trusts him and for a big reason. We can not put him in a position to take an easy win.
Kraken goalie Phillip Grubauer was incredible the entire game. He was the only reason that the score was not different/worse. The good news is this series is best-of-seven. We went into Dallas and got a win. That is all that should be hoped for and expected.
The Kraken head home for Game 3 and look to answer the Dallas depth and intensity. I have said from the start, the Kraken will win in 7, and that this is a marathon. Do not hit the panic button, we have Dallas right where we want them.
Fear the deep!