Yeah, It's Over Now, But I Can Breathe Somehow- Seattle Kraken Win Game 7!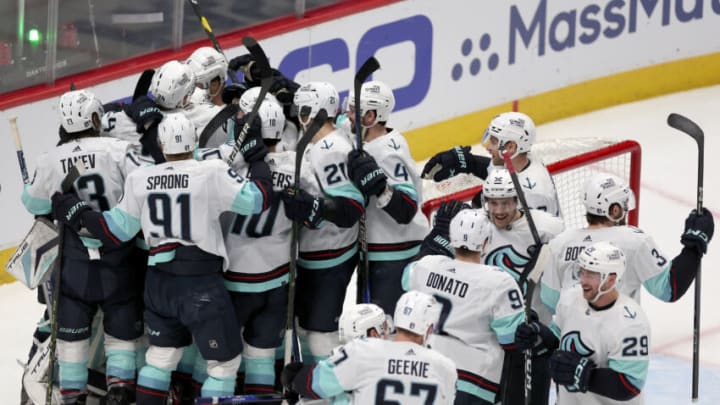 DENVER, COLORADO - APRIL 30: The Seattle Kraken celebrate their win against the Colorado Avalanche in Game Seven of the First Round of the 2023 Stanley Cup Playoffs at Ball Arena on April 30, 2023 in Denver, Colorado. (Photo by Matthew Stockman/Getty Images) /
The Seattle Kraken knocked out defending Cup Champion Colorado Avalanche 2-1. Seattle wins their first ever playoff series and will now advance to the second round to face the Dallas Stars. A series that took all 7 games, was indeed the best matchup for the Kraken in the first round.
The Kraken may not have had the superstars that Colorado has, but we had the depth. Fear the depth. What a game it was too. Goalie Phillipp Grubauer was the star of the first period, blanking the Avs and faced continuous pressure. The second period Oliver Bjorkstrand was the hero with 2 goals.
The lack of hockey IQ from the Colorado fans was on full display tonight. The 'boo birds' were out after obvious correct calls from the referees. In the 3rd period Nathan MacKinnon scored a nasty goal that was overturned from an obvious offsides call. Offsides by at least a foot and a half. The Avs fans began the "refs you suck" cry.
Colorado has the worst fans in the NHL. Completely clueless, and a bunch of crybabies. TNT froze the screen on bewildered fans after the call. Hilarious.
Tip your cap to the Avalanche team. They are tough as nails. They just did not have the horses in this race. This just goes to show you how difficult it is to win back to back Stanley Cups. Really a tough feat.
Phillipp Grubauer was the series MVP. He carried the Kraken this entire series and is only going to get better. What a fun series to watch and cover. Seattle will now face the Dallas Stars in the second round who have much more depth, as well as a few superstars. The next matchup will be much tougher. The Stars did get beat up by the Minnesota Wild. So there is that going for us.
Grubauer has the last word now with Colorado. The next time the Kraken face Colorado in Denver the "GRUUUUU" calls will be "BOOOOs".
The Kraken head home and get to prepare for a much tougher opponent. Get ready to see Jason Robertson, Tyler Seguin, "Little" Joe Pavelski, Jake Oettinger, and Jamie Benn. Oh my. Round two is going to be electric. We will get into predictions, probable outcomes, and funny takes this week. Tonight, let's enjoy this historic moment in Seattle Sports history. Congratulations boys! Enjoy this one. Tomorrow start getting ready for round two. Your work is just getting started.
Fear the deep!