Seattle Kraken: Sundqvist Stands Out Among Possible Expansion Picks
Hockey is back for it's final season before the Seattle Kraken set about drafting their roster. Opening night saw plenty of high-scoring action too.
For the avid Seattle Kraken fan, opening night was a chance to start looking at potential expansion picks. Which is exactly what we set about doing.
There were a few shining examples of players we wouldn't mind Ron Francis picking.
Likewise, there were a few players that didn't exactly shine, though we won't be focusing much on those: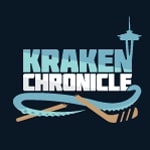 Want your voice heard? Join the Kraken Chronicle team!
Write for us!
Oskar Sundqvist (St. Louis Blues)
The stand-out of the bunch. Oskar Sundqvist in one game went about summing up why the Blues should be looking for ways to retain him.
Aside from the obvious 2 goals in 13:34 minutes of ice-time; Sundqvist also laid 3 hits and ended up blocking 4 shots. All this despite seeing more defensive zone starts than offensive zone ones.
Expecting him to maintain this level of scoring is foolish. However, he is a valuable role player in the Blues line-up and with players missing, he stepped up with a strong performance.
On the basis of opening night, he is absolutely the name the Seattle Kraken should be targeting from St. Louis.
Braden Holtby (Vancouver Canucks)
Making his debut for our nearest neighbours, Braden Holtby limited an offense starring Connor McDavid and Leon Draisaitl to three goals. This despite that duo putting 6 shots on his net.
A high danger save percentage of 0.909 on the night marked a strong debut. Given the lack of a full pre-season and no exhibition schedule, this was a strong performance.
While Holtby will of course be disappointed about conceding three goals, he worked hard in ensuring his team took the two points.
No reason to doubt that he'd be a perfect goaltending choice for the Seattle Kraken based on his first game with Vancouver. That is once we decide how many goalies to go for.
Connor Murphy (Chicago Blackhawks)
While it's hard to find positives in the Blackhawks' performance, Connor Murphy didn't look too bad. He likely will be finding himself available to the Seattle Kraken in the summer.
Seeing the second highest ice-time among Chicago defensemen and the most ice-time on the penalty kill, Murphy was valued by his coach.
A couple of shot blocks, couple of hits and a drawn penalty should all be counting as small wins in a 5-1 loss. Unfortunately though, he found himself on the ice for two of Tampa's five. One of those goals, to be fair, was a Steven Stamkos power-play marker, so it can be forgiven somewhat too.
All in all, despite being on a losing side, he still looked decent enough that we wouldn't mind seeing him in Seattle Kraken colors.
Statistics courtesy of Natural Stat Trick.