Seattle Kraken: Do You Take P.K. Subban Or Brent Burns?
It goes without saying there may be some big contracts on the table for the Seattle Kraken. The biggest two names that are seeming somewhat plausible are Brent Burns and P.K. Subban.
Both Brent Burns and P.K. Subban have large contracts that their respective teams may see value in getting out of. As such, it's entirely plausible they end up offering them on a silver platter to the Seattle Kraken.
The big question remains though is whether Ron Francis and his team would be willing to take the bait. Both are ageing stars that would be available because their performance hadn't been matching their salary cap hit.
However, both have great marketability which is of value in the modern-day NHL. Likewise, these are both former Norris Trophy winners. Not a bad starting point for building a defense!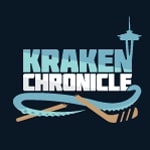 Want your voice heard? Join the Kraken Chronicle team!
Write for us!
We're going to look at the pros and cons of each player:
P.K. Subban
P.K. Subban won the Norris Trophy back in the 2012-13 season with the Montreal Canadiens. As such, he's further-est removed from past glories. Likewise, he's seen the most upheaval in his career, leaving Montreal for New Jersey (via Nashville).
Last season with the Devils though, P.K. was very very inconsistent and massively under-performed the expectations a $9 million cap hit have shouldered him with.
Over the past few years; we've seen the expected goal percentage relative to teammates on a steady path of decline. Last year, at even strength, it was a meager -0.92%, the years' prior -0.57% and -0.56%.
Those figures reflect that he isn't out-scoring any defensive frailties. In fact, they're amplifying over time. The fact the numbers were low even on a stronger defensive team like Nashville is telling.
Even his even-strength goal scoring plummeted last year, which can be accounted for somewhat by the Devils side he was playing on.
Perhaps the key reasoning for him being made available is that he's not producing with his offense. This is a defenseman that is known for a two-way game, after all.
Of course, a bounce back season immediately disqualifies any talk that the Devils would give up on him for free. As such, he has a very big year ahead. The team surely can find an alternative player worth protecting otherwise.
Risking a $9 million cap hit to the Seattle Kraken wouldn't exactly be a lose-lose scenario!
Brent Burns
Aside from acting like a pirate at Disneyworld, Brent Burns has also appeared in the television show Vikings, making a cameo in season six. It makes sense given his Viking style!
Much like P.K., this fun side of his personality would make him a huge addition to the burgeoning Seattle Kraken franchise.
Many people might be questioning why the San Jose Sharks would even be considering letting a guy, who on an off-year still put up 45 points in 70 games. The answer lies with whether they want a combined $26.5 million tied up on three defensemen until 2025.
Erik Karlsson and Marc-Edouard Vlasic won't be going anywhere due to no-move clauses, so you start testing the waters on Brent Burns. Of course, this is a player that they'd be keener on trading than giving up for free, but with a cap hit of $8 million until 2025, it could be a challenge.
Still averaging 4.14 shots blocks per 60 minutes (at even strength); he still holds great defensive value. Though in all honesty, that's never been where you see the best of his game. He is an offense-first kinda guy given his history as a winger.
The 1.15 even-strength points per 60 is down on previous years but again, that relates to the team not playing up to expectations. The Sharks, after all, were basement dwellers.
You'd be rooting for a bounce back year for Burns, especially if Karlsson is fit and they're sharing the first power-play unit. However, he's now 35 years old and maybe time is catching up on him.
Conclusion
A lot has to play out for both of these guys to even be available.
A more likely scenario for the Seattle Kraken is their teams offering them as side deal components as not to select anyone else. Perhaps, we even end up paying in trades to ensure getting them.
If, however, it ends up panning out that they are both available, it's the P.K. Subban contract that feels more appealing.
Shorter contract term, the chance of a renewal at a discounted rate after his first Seattle Kraken season and he's the younger of the two.
Do I see a role for Brent Burns with the Seattle Kraken; absolutely. That's just thinking about all the social media fun you could have with his pirate looks!! Likewise, his production was down last year on the ice but was still impressive hence not a bad hockey signing either.
If either of them are available individually at the Expansion Draft, I'm taking the bait. If they're both available, tie-breaker to Subban.