Seattle Kraken: Actions Speak Louder Than Words With Arena
We are all sleepless in Seattle about the new arena for the Kraken. The new rink for the Seattle Kraken is the Climate Pledge Arena and it's time to discuss it at length.
As the days draw closer to the 2040 deadline of the Climate Pledge, Seattle's arena is decorated in the green of the Climate Pledge logo. Much is being made of such a statement by the city of Seattle, and foremost by the leadership of the Seattle Kraken.
One thing before we start is that we should mention that the actual climate pledge, a year 2040 goal-orientated pledge to be net zero carbon by 2040, which is centred on the 2015 Paris Climate agreement.
Without twisting and arguing around the subject of climate change, which is a monster of the deep of modern society in discussion and verse, we must all unanimously accept that the climate of the world is changing.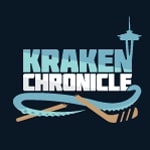 Want your voice heard? Join the Kraken Chronicle team!
Write for us!
Whether you believe this to be for the better or for the worse, climate change is occurring and the climate discussion wave that is and is always being had by those that care about the environment they live in.
But rather than delve into this wide and expansive debate – what should and shouldn't be done – we are, as Seattle's sustainability-leading NHL and newest club, the beacon of setting out the stall for modern day issues.
Whilst the Climate Pledge Arena waits for the wave of all the spectators to flock through its doors, we must think as a collective team to how we as individuals we can help towards the climate pledge.
For some, ice hockey may be a way to the Pacific Northwest, a chance to visit as the Seattle Kraken invite teams from across two countries to the arena to play ice hockey.
There is a huge chance we have disturbed the neighbours, Vancouver that is, and hockey is where the competition now will made: do it on the ice.
The Seattle Kraken has awoken the city of Seattle again and has opened a new can of worms to the region and area. And this monster of a building, the Climate Pledge Arena, speaks louder than most of what the region stands for. So far, the arena build has ticked certain boxes on recycling materials.
So is it possible, carbon neutrality that is?
It would be a tremendous feat for an arena that is to become so busy over the years. I say this as I do the numbers.
So, with 41 games times by 17,100 people equalling 701,100 people; who will, I can only assume, eat and drink themselves to a winning Seattle Kraken season at the Climate Pledge Arena, is it possible to calculate this carbon neutrality that is so dreamed about?
I could get picky, very easily, and ask a host of questions aimed at where the $1 billion of investment has come from for this eco-friendly arena, so I am.
Kindly enough, this $1billion of investment isn't too hard to trace online as the key investors Amazon, Oak View Group and the City of Seattle, are all on the Climate Pledge Arena website:
Amazon
Amazon's multi-dominating, environmentally aware business model is strategically poised to develop the environmental drive. It does not take much to say that developing a large business does not hurt the environment but current orientation in the business strategy points towards increased actions toward environmentalism.
Oak View Group
Irving Azoff (former music industrialist) and Tim Leiweke (former sports industrialist) formed Oak Group in 2015. As I can see this new drive for sustainable and eco-friendly sports arenas isn't just a Seattle thing:
Let me take you back to other organisations led by and involved with the leaders of Oak View Group.
For example, Azoff and Leiweke were both involved in the eco-development of what I count to be a consortium of eco-driving buildings:
AT&T Center (San Antonio) with LED lighting and environmental design
Scotiabank Arena (Toronto) with 2011 drive for carbon neutrality
Amalie Arena (Tampa Bay) with an eco-drive that included using environmentally sound, energy saving software
BB&T Center (Ft. Lauderdale) with a 2016 environmental redevelopment
Bankers Life Fieldhouse (Indianapolis) 2017 with a green drive in the stadium,
Chase Center (San Francisco) 2017 green orientated development
PPG Paints Arena (Pittsburgh) LEED Gold environmental certification,
KeyBank Center (Buffalo) 2020 energy efficiency projects
The Forum (Los Angeles) environmental reviews
Golden 1 Center (Sacramento) named greenest arena in the country
and the list goes on!
These men have real pedigree in this field, it shows in their work, so we are totally in for the eco-ride in Seattle!
City of Seattle
2014: Named most sustainable city in the country
Need I say more?