Seattle Kraken: The Rangers Can't Really Lose At The Expansion Draft
Such is the make-up of the rebuilding New York Rangers, they won't be losing anyone of major value to the Seattle Kraken.
Looking through their roster and predicting their protections, the Rangers are safe from the Seattle Kraken. Simply put, it's going to be, at best, a forward capable of bottom-six duties or a somewhat green defenseman.
Best case scenario for the Seattle Kraken involves adding 25 year-old defenseman Anthony Deangelo. He has been causing a bit of a stir of late with his social media postings.
Those postings would be the only reasoning for exposing him to Seattle. Otherwise, he's a second pairing lock at the minimum on this current New York Rangers side. Assuming that his choices on social media haven't created to much bad blood, he'll be staying put in New York.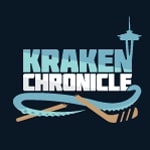 Want your voice heard? Join the Kraken Chronicle team!
Write for us!
In turn limiting the options the Seattle Kraken truly have available. No move clauses will ensure protecting Chris Kreider, Artemi Panarin, Jacob Trouba and Mika Zibanejad.
Beyond them, future franchise names like Kaapo Kakko and Igor Shesterkin are safe from being exposed, due to being exempt. This is where the Expansion Draft is proving kind to New York.
The likely best options among the forward group are Brett Howden or Filip Chytil. Howden has been carving a role out for himself in previous years with 42 points in 136 games the past two seasons. Likewise, Chytil has made the most of his chances with 49 points in 144 NHL games.
Both would be good young depth Expansion Draft signings for the Seattle Kraken, but little more. Of course, they're young enough to maybe have top-six potential. Otherwise, you're definitely expecting a top-nine role for either.
Beyond them, Jack Johnson is absolutely worth exposing. In itself, a player the Seattle Kraken shouldn't be wasting an expansion pick on. Expecting the option of Ryan Lindgren or Libor Hajek on the blue-line is a fair assumption though.
Lindgren was in 60 NHL games for the Rangers last season, carving out somewhat of a role for himself. He found himself playing most often alongside Adam Fox, who is certainly rated highly in New York.
Hajek is not quite cracking the NHL full-time as yet; he's very much a lesser-known quantity in the big league. He ended up playing just 28 games last year, though still averaging 15:59 a game. He's the option if you're gearing towards the potential dark-horse prospect.
None of these options are screaming top pairing or top line in their future. They're not even really seeming like top-six options in terms of the forwards. As such, the Rangers really aren't losing too badly this Expansion Draft.
That is unless they start valuing one more heavily and risk losing a player or draft pick to additionally protect them. That's when this could get messy. It's highly unlikely though.