Seattle Kraken: Bringing Matt Barzal Back To Seattle Surely Just A Dream
Dreaming big is in the DNA of the Seattle Kraken franchise. Is it dreaming too big though to imagine bringing Mathew Barzal back to Seattle?
The former captain of the Seattle Thunderbirds is still holding out on a new deal with the New York Islanders. These delays continue to fuel the imagination that he could end up playing elsewhere, maybe even with the Seattle Kraken.
Chiefly, there appears to be a disparity between what Mathew Barzal wants and what the Islanders are willing to pay. The Islanders have a serious cap crunch which is playing perfectly into Barzal's hands.
An ever-changing trade landscape certainly means the Islanders will find it hard to clear enough cap space for a long-term deal.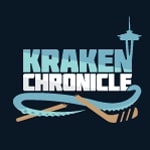 Want your voice heard? Join the Kraken Chronicle team!
Write for us!
Indeed, if Barzal considers taking a one-year deal at a very cut-price rate; maybe he is thinking of options longer term. Maybe he is considering that the Islanders perhaps don't value him as much as he feels he's worth.
After all, this is a player that was caught earlier in the off-season hoping for offer sheets around the league. With that sort of thinking, you have to be imagining he wants one himself.
How do the Seattle Kraken fit into all of this?
Firstly, Barzal has no doubt got great memories of his time playing in Seattle. He was a WHL champion and playoff MVP during his run with the Thunderbirds after all. Likewise, he made the First All-Star team twice in that time.
Before winning the Calder Trophy in his debut NHL season, he had 278 points in 202 WHL games. In addition to that, he also had 65 points in 49 playoff games. Such was his influence with the Thunderbirds, he found himself captaining the side in his final WHL season.
Those memories have to shape his views of Seattle. With a new NHL team debuting, perhaps he's seeing it as a chance to return to the city of his late teenage years.
Secondly, feeling undervalued by the Islanders will surely play a part in any future thinking. Moving to Seattle isn't the biggest leap of the imagination. After all, he knows the Seattle Kraken would likely be paying top dollar as the top-line center.
Dreaming of adding a player with past history in the area undeniably gives a warm, cosy feeling. Bringing someone home after all, is the reason for the Islanders parting with their last top-line center.
Here's the challenging part; if the Islanders sign him on a one-year deal, we still need to factor in an offer-sheet. It's either that or a sign-and-trade transaction. Neither of which seeming likely given Lou Lamoriello runs the office in New York.
Indeed, it does seem like a stretch thinking of Mathew Barzal in Seattle Kraken colors. However, stranger things certainly do happen in the NHL. Maybe the Kraken should be shooting for the moon!