Seattle Kraken: Defenseman All But Guaranteed To Leave Toronto
The Expansion Draft may still be a (shortened) hockey season away, but it's all but certain that the Seattle Kraken take a young defenseman from Toronto.
It's all but a lock for the Maple Leafs as to which forwards they protect; Tavares, Matthews, Marner, Nylander, Hyman and Kerfoot being the core six. Of course, there may be options in that seventh spot that may adjust the Seattle Kraken's expansion thinking.
It's not beyond the realms of possibility that Jimmy Vesey has a break-out campaign. Maybe Wayne Simmonds sets about re-capturing past form. Perhaps even someone like Denis Malgin surprises us all!
Looking at the defense; you'd be crazy thinking we will see Morgan Rielly left available. Nor is it likely that TJ Brodie or Jake Muzzin are options. All of these moves, of course, rely on unrestricted free agents inking new deals.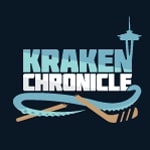 Want your voice heard? Join the Kraken Chronicle team!
Write for us!
Between the pipes, maybe there is an option for the Seattle Kraken. Only one of Freddie Andersen, Jack Campbell or Michael Hutchinson is guaranteed protection. Again, that is if the Maple Leafs are intending to renew Freddie.
All of this means that the Maple Leafs aren't able to protect Travis Dermott or Justin Holl, among others. Given these options, Travis Dermott is all but set in stone to be joining the Seattle Kraken.
The only way he is staying with the Toronto Maple Leafs is if TJ Brodie or Jake Muzzin's on-ice output falls off the proverbial cliff. These two both don't have anything in their contracts guaranteeing expansion safety.
Justin Holl would be a sturdy option for Ron Francis to add to the Seattle Kraken blue-line. Though a $2 million a year deal makes him appealing, he is currently 28. By contrast, Travis Dermott is only turning 25 in December 2021.
That difference in age surely makes any decision-making very simple. Surely, the Seattle Kraken are going to be snapping up the younger of the two.
Especially given the scope for improvement in his game. Travis Dermott could easily become a top-four defenseman given a little more time honing his skills.
He has considerable mobility and a level of hockey IQ that assists him in making smart decisions. In a lot of ways, picking him up reminds me of the Vegas Golden Knights drafting Shea Theodore in their expansion year.
Theodore put up slightly better numbers in the AHL but on the flip side, Travis Dermott has established himself as an NHL third pairing player. Thus, I consider Dermott the equal of Theodore when he was picked in the 2017 Expansion Draft.
Taking Dermott from Toronto doesn't require much stretching of the imagination. It's a high likelihood that Ron Francis has been planning it all along.
We should be expecting him to slot in comfortably in a second-pairing role, perhaps even gaining the trust for some power-play time. Of course, it all depends on who else we set about drafting for the blue-line.
Indeed, Dermott should be one of the first names we expect to see on the first Seattle Kraken roster. That is unless some wheeling-and-dealing occurs between now and the Expansion Draft.