Seattle Kraken: Stealing This Canucks' Player Would Be Satisfying
Of course, with them being our closest geographical rival, stealing a Canucks' player will be satisfying for the Seattle Kraken. This one especially.
The Expansion Draft is, as the Seattle Kraken Twitter bio puts it, all about 'drafting your favorite player'. When it comes to the Vancouver Canucks, we might not be drafting anyone's favorite. Yet.
Until the recent move of Jakob Markstrom, we were expecting the Seattle Kraken to draft Thatcher Demko. Such a move was as much about hurting the Canucks as it is about grabbing a young number one goalie for the future.
Instead, it seems more like we'll get satisfaction from stealing a different goalie. Namely their recent free agency signing, Braden Holtby.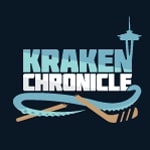 Want your voice heard? Join the Kraken Chronicle team!
Write for us!
Now, there will be other options on the table. Expect that Micheal Ferland may be available, possibly Tyler Myers and almost definitely Antoine Roussel.
All three names would provide the Seattle Kraken different elements. Ferland and Roussel are the hardy depth sort of signings you make at the deadline, ahead of a run at the Stanley Cup though.
Tyler Myers would be offering some size and a big shot on the blue-line, but again, he doesn't feel like the right pick.
Adding Braden Holtby puts the Canucks in a spot, because we'd be taking a goalie that will likely be splitting time 50/50 with Demko this season.
In adding him to the Seattle Kraken roster, we're first and foremost, adding a Stanley Cup winning goalie. Not only that, but aside from one poor season, there's nothing to say he can't perform at a high level for a few more years.
Sharing the load, Braden Holtby would prove a huge asset to the Kraken. On his own, you might be a little more concerned. Gone are the days of him handling a huge workload without issue.
Obviously, there are some younger names that the Vancouver Canucks will be leaving available. However, it's hard to pick which ones. A lot is depending upon how they perform this coming season.
They too would be power moves, in terms of stealing from our geographic rival. It's going to be fun either way. Perhaps, we're completely off the mark, but a move on Holtby would be hurting them.