Seattle Kraken: The Arizona Pick Surely Must Be A Goalie
The Seattle Kraken will get to make their picks in the Expansion Draft soon enough. Their pick from the Arizona Coyotes surely must be a goalie.
Every team in the NHL will set about protecting the best players possible from the Seattle Kraken drafting them.
However, in the case of the Arizona Coyotes; they have three goaltenders that they have been relying on. Meaning at the Expansion Draft, they're likely not protecting two of them.
Looking at the rest of the Coyotes' roster, it's fair to be assuming that the Seattle Kraken will be taking one of these three names: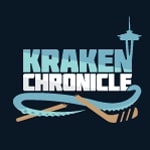 Want your voice heard? Join the Kraken Chronicle team!
Write for us!
Darcy Kuemper
Darcy Kuemper is the least likely to be available. You'd be imagining that the Arizona Coyotes set about protecting him. Though, with a shortened year, maybe he hits a rough patch of form and is overlooked.
He was in Vezina form early in the season, unfortunately tailing off with injury befalling him. This, though, in turn led to the other two goalies in Arizona highlighting their cases.
There's not a great deal worth saying about Kuemper as it's very likely he's the one they'll be protecting.
The two names worth exploring a little more intently are Adin Hill and Antti Raanta. Both are capable of starting NHL games; perhaps not as number ones, but certainly as part of a pairing.
Unless there are trades prior to the Expansion Draft, the Coyotes are surely leaving them both available. The biggest decision for the Seattle Kraken is which one will they set about taking:
Antti Raanta
Antti Rannta is worth considering as very much the older and more experienced of the two. At 31 years old, he is almost seven years older than Adin Hill.
However, that age ends up meaning that he is far more experienced at the NHL level. He has eight years and 186 NHL games under his belt, managing a 0.921 save percentage in that time.
During that time, he has played for the Chicago Blackhawks, New York Rangers and now the Arizona Coyotes. Moving to a new city and team isn't going to be catching him off-guard.
Perhaps telling, given those teams' different styles, is the fact that his save percentage has remained very consistent year-on-year. Likewise goals against averages haven't seen huge fluctuations with an NHL average of 2.40.
This is all very comforting for the Seattle Kraken if they set about drafting Raanta. He's very much a calming choice; getting the job done but not being flashy about it. Consistency is key here.
In terms of his durability, his most games in a season was back in the 2017-18 campaign playing in Arizona. He started 47 games that year, suggesting he can definitely handle the workload.
That is perhaps the big question mark when it comes to the alternate choice:
Adin Hill
Ignoring his junior hockey days with the Portland Winterhawks, the most games Hill has seen at professional level is 40. That was in an AHL campaign with the Tuscon Roadrunners a few season back.
It would be leading to questions about whether he could handle even a full shared workload with the Seattle Kraken. Inevitably, his experience of just 30 NHL games also makes him a more challenging pick.
Given the alternate options has almost six times as much game experience, it's a much harder sell. But maybe he isn't anywhere near peaking and his ceiling is much higher. Especially, at 7 years younger than Raanta.
In the NHL, Adin has managed to carry a 0.907 save percentage. Perhaps more concerning is the fact his AHL average is just 0.910. Is this reflective of a poor Tuscon team or something more alarming in his goaltending?
Obviously, the safe bet is taking Antti Ranta at the Expansion Draft. Either that or hoping that Darcy Kuemper is somehow left unprotected.
However, don't go ruling Adin Hill out. This season is going to be strange and maybe it's the one he sets about breaking out. Maybe he ends up proving himself as a bonafide NHL starting (or at least backup) goalie. Last season, there were certainly moments of brilliance.
All in all, I wouldn't be wanting to make the decisions, either in Arizona or Seattle.